MALONE, BORGIDA, ROBINSON, ANONYMOUS VOA on Letter to Editor About USAGM CEO Michael Pack and Voice of America
USAGM Watch Commentary
Two former Voice of America (VOA) reporters Jim Malone and David Borgida wrote in their Letter to the Editor of The Washington Post:
Regarding the June 16 Style article "Top editors at Voice of America resign":
With the departure of leadership at the Voice of America, the new chief executive for international broadcasting, Michael Pack, will choose a new director who will guide the organization in its journalistic mission.
As longtime (now retired) Voice of America news correspondents who dedicated our careers to the pursuit of credible journalism, we were disturbed by President Trump's recent attack on the VOA. Over the decades, VOA correspondents have risked their lives in reporting major stories around the world. At home, reporters and editors have never shied from comprehensive and balanced reporting on major U.S. stories, including Watergate, the Iran-contra affair, the 9/11 terrorist attacks or the impeachments of two American presidents.
Commentary
In their Letter to the Editor of The Washington Post, the two former Voice of America English Newsroom journalists made no mention of multiple programming and management scandals under former VOA Director Amanda Bennett who was appointed during the Obama administration.
They failed to note numerous violations of the VOA Charter during her tenure, the firing of anti-communist VOA Mandarin Service journalists over an editorial dispute, posting of one-sided anti-Trump partisan election campaign videos and Chinese government propaganda videos by several VOA foreign language services, and posting of offensive and obscene memes by some of their former VOA English Newsroom colleagues.
While Malone and Borgida rightly observe that "At a time when credible news reporting matters more than ever, we believe that discarding VOA's traditional journalistic role in exchange for turning the Voice of America into a propaganda mouthpiece would be a mistake for the country and a disservice to the VOA's international audiences," they seem to be blind to blatant violations of the VOA Charter of recent years under the former VOA management team assembled during the previous administration and which continued to run the organization until a few days ago. They also don't point out that much of VOA English-language programming content is read online by American voters in the United States and can influence their voting choices.
What they should have written is that the Voice of America under its new leadership should not continue such abuses generated by VOA editors and reporters regardless of which side of the political spectrum tries to influence Voice of America audiences abroad and increasingly American votes at home through VOA English and VOA foreign language websites and social media pages. To a lesser extent than the VOA English program content's impact on American politics, reports by VOA foreign language services, which have at times repeated without challenge Russian, Chinese and Iranian propaganda, are also reaching ethnic American voters. Some of them, especially Chinese-Americans and Iranian-Americans, have criticized the Voice of America and former VOA Director Amanda Bennett, but some may have been influenced by one-sided reporting mixed with foreign propaganda.
While the two former VOA correspondents who wrote their Letter to the Editor of The Washington Post bear no responsibility for these violations of the VOA Charter, they failed to acknowledge that they had occurred–some of them during the 2016 U.S. presidential election campaign–prior to Mr. Pack being confirmed by the U.S. Senate and prior to the recent departure of former VOA Director Amanda Bennett and her deputy Sandy Sugawara. We certainly hope that Mr. Pack and whomever he chooses to be the next VOA director will not allow similar abuses generated by ideological zeal from the opposite side of American politics.
Partisan VOA Propaganda and Foreign Propaganda 2016-2020
Anonymous Former Agency/VOA Employee
A former agency employee, who defends Voice of America journalists over disputes with the former management and wants to remain anonymous, commented:
I read their [Malone's and Borgida's] boo-hoo letter.
They really are in deep denial about how the agency has trashed the Charter, particularly with Leftist Director Amanda Bennett. Anything goes as long as it's anti-Trump. So much for balance.
Dan Robinson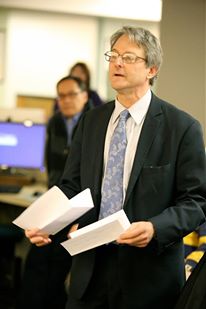 Dan Robinson, a former VOA English Newsroom foreign and domestic correspondent, who was also for a time a VOA foreign language service chief, posted this comment on Jim Malone's and David Borgida's Letter to the Editor in The Washington Post:
So, apparently The Post used what the authors themselves described as an "inflammatory" headline. With its close ties to the ex-VOA director and her deputy, The Post confirmed the bias that is so widespread in major media reporting on USAGM/VOA.
Not to worry — the original headline, before The Post dropped the word "lackey" (to describe Michael Pack, President Trump's choice as CEO of USAGM) is nevertheless memorialized on news feeds (a copy of the original link is below).
Like Malone and Borgida, I am a former foreign and domestic correspondent for VOA (including as chief White House correspondent covering President Obama from 2010 to 2014) and share to a great degree the respect for the work we all did over many years.
However, what this mistake by The Post ironically shows is the extent of major media bias in reporting about this troubled agency, of which VOA is one part. USAGM (formerly BBG) was troubled and mismanaged for years prior to Donald Trump winning the presidency, once referred to way back in the 1980's as "the sickest federal agency."
As one person commenting recently put it: "If you [VOA] want autonomy, then give up all the government money you are taking. You have to choose which master to serve."
On the question of the much-discussed "firewall" that is supposed to shield the agency's journalists from political interference, it should be noted that this is actually not in statute but a concept only mentioned in Senate report language. That does not lessen the importance of the concept; [but] there is a difference.
https://www.washingtonpost.com/opinions/trumps-lackey-at-voice-of-america-will-turn-it-into-state-propaganda/2020/06/18/1b952b14-b0b4-11ea-98b5-279a6479a1e4_story.html