Voice of America Needed Prodding to Report on Hunter Biden New York Post Story
USAGM Watch Commentary
It took prodding from outside journalists to get Voice of America (VOA) central English newsroom editors to post a news story about Twitter's and Facebook's blocks on the New York Post article about alleged e-mails from Ukraine related to Joe Biden's son Hunter Biden. Even when VOA posted its first news item in English on the story on October 15, 2020 at 3:44PM EDT after an inquiry was sent by a former VOA journalist to VOA and U.S. Agency for Global Media (USAGM) senior managers long after all major U.S. and international media reported on the controversy, it was only a report from Agence France Press (AFP)–the French press agency—not a VOA-originated news story. The VOA English central newsroom did not post its own report on the Hunter Biden-New York Post-Twitter-Facebook story until 9:45 PM EDT on October 15 and updated it at 10:24 AM EDT on October 16.
The original New York Post article, which started the controversy, was posted on October 14, 2020 at 5:00 AM. At 4:14 PM on October 14, the New York Post further reported that "Both Twitter and Facebook took extraordinary censorship measures against The Post on Wednesday over its exposés about Hunter Biden's emails." The New York Post claimed that "Twitter [was] baselessly charging that 'hacked materials' were used."
At the very least, the Voice of America which has its own "Press Freedom Editor" should have reported on the announcement from Twitter at 7:44 PM on October 14 about its decision to block re-tweets of the New York Post article. Even at this point, the Voice of America still had nothing on the story on its VOANews.com main English-language website and would not post the first report from the French press agency until late afternoon the next day following an inquiry sent by an outside journalist to the management of the tax-funded, U.S. government-run VOA and its parent federal agency, the U.S. Agency for Global Media (USAGM).
Regardless of who is right or wrong in this controversy, the Voice of America clearly had an obligation under the VOA Charter to report on President Trump's criticism of the decision by Facebook and Twitter. His Twitter post appeared at 6:09 PM on October 14. By that time, VOA could have easily balanced Trump's tweet with various media criticism of the New York Post reporting on the controversy. The first VOA report which was merely a reposting of the French press agency report was, however, nearly 24 hours later.
By late evening October 14, most major U.S. news media outlets were reporting on the allegation that Hunter Biden introduced his father, then-Vice President Joe Biden, to a top executive at a Ukrainian energy firm, with some questioning various aspects of the New York Post report. The Washington Post published its fact-checker analysis "Hunter Biden's alleged laptop: An explainer" at 8:43 PM EDT on October 14. Radio France Internationale (RFI) reported in English that "Trump blasts Facebook, Twitter for censoring article critical of Biden" shortly after midnight on October 15. VOA's AFP report, posted 15 hours later, briefly mentioned Trump's tweet.
The Washington Post's analysis of the New York Post report at 8:43 PM on October 14:
Analysis | Hunter Biden's alleged laptop: An explainer
President Trump suggested then-Vice President Joe Biden sought to save his son, Hunter, from prosecution in Ukraine. A whistleblower from the U.S. intelligence community said Trump withheld military aid to pressure Ukraine to investigate Biden and his son. An impeachment inquiry was launched. The Fa…
While not everything could be immediately checked out about the New York Post report, it is a poor reflection of Voice of America that they had to be prodded to cover a clearly newsworthy story, widely reported on by almost all other U.S. and international news organizations. Regardless of how journalists interpret the facts, it is without any doubt a news story about:
(1) the imminent American presidential election,
(2) press freedom, and
(3) a new development in the issue that was at the core of the Democrats' impeachment effort against President Trump.
We do not suggest how the Voice of America should cover the controversy but point out that by not reporting on the story VOA was failing as a news organization and possibly opening itself to charges of covering up or censoring news that could hurt Joe Biden or being afraid to report anything that could get them in trouble with the Biden campaign or their own colleagues.
Far from having a pro-Trump bias, the VOA central English newsroom has had a strong anti-Trump, pro-Hillary Clinton and pro-Joe Biden bias which continues under USAGM CEO Trump appointee Michael Pack. The partisan bias extends to some VOA foreign language services and may have an impact on U.S. elections since some of the VOA program content, in English and in various foreign languages, is read and watched on the Internet by U.S. voters.
For example, Voice of America editors and journalists in the VOA Urdu Service have posted a pro-Biden election campaign video targeting American Muslims which was subsequently removed and condemned by Acting VOA Director Elez Biberaj. While appointed by USAGM CEO Michael Pack, Biberaj has posted on Facebook about his family links to Democratic Party politicians and cannot be accused of being pro-Trump. He called the VOA Urdu Service partisan Joe Biden video incident "serious breach of our journalistic standards and a violation of the VOA Charter…" that "implied VOA's endorsement of a partisan election message." NPR quoted Biberaj as also saying that he would reject any outside or political pressure on the VOA newsroom's coverage.
In 2016, the VOA Ukrainian Service posted an anti-Trump election campaign video in which the Republican Party candidate for president was called "pig" and "dog," and a call for physical violence against him was condoned.
In 2014, the then Obama administration management of the Voice of America and the Broadcasting Board of Governors (BBG), as the U.S. Agency for Global Media was called between 1999 and 2018, allowed VOA Ukrainian Service reporter Myroslava Gongadze to accompany then Vice President Joe Biden to some official events during his trip to Kyiv, Ukraine while she also covered the trip for VOA and later posted on her Facebook page that Joe Biden is a "good man."
Voice of America Ukraine Expert Called Joe Biden A 'Good Man'
BBG – USAGM Watch Commentary FOR BACKGROUND SEE: NBC's Andy Lack visited Ukraine as US official in…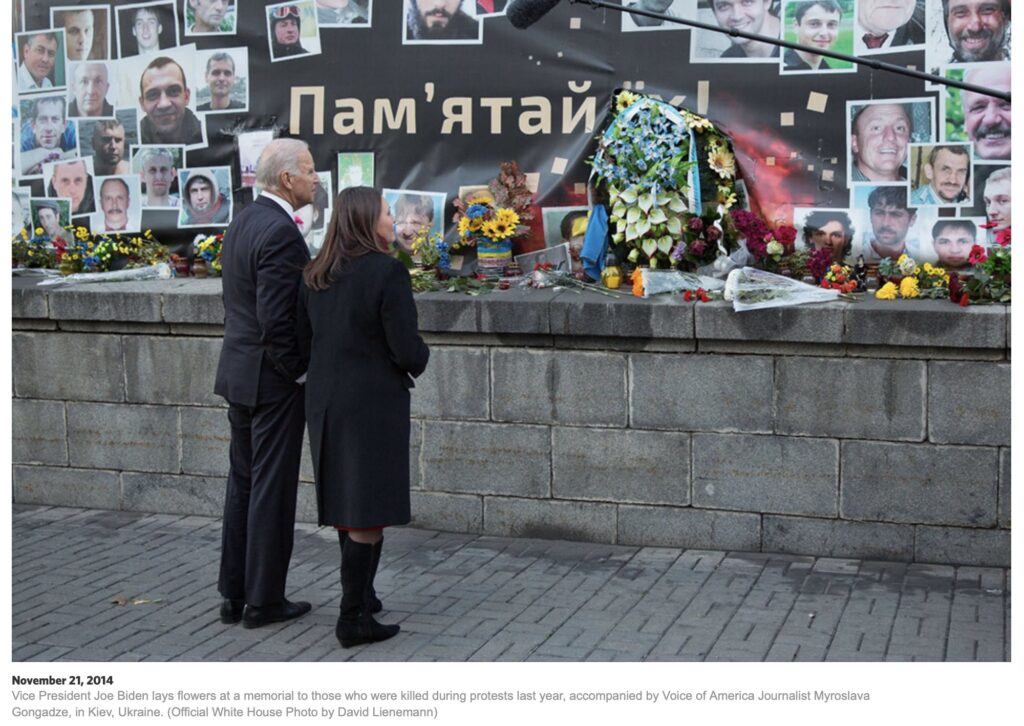 A photo captioned "November 21, 2014 Vice President Joe Biden lays flowers at a memorial to those who were killed during protests last year, accompanied by Voice of America Journalist Myroslava Gongadze, in Kiev, Ukraine. (Official White House Photo by David Lienemann)," under the title "Standing with Ukraine" can still be seen as part of Audio Series "Being Biden: Stories from Vice President Joe Biden" on the archived official President Obama White House website.
On August 31, 2020, 14 VOA central English newsroom journalists sent a letter to Acting VOA Director Elez Biberaj with various allegations against Trump-appointed USAGM CEO Michael Pack: "We have watched in dismay as USAGM executives have been dismissed for, in their words, attempting to educate the new CEO on avoiding legal violations, as well as guiding him on the firewall that protects VOA's legally mandated editorial independence."
The 14 journalists also criticized Michael Pack for his responses to warnings from the Office of Personnel Management (OPM) and the Office of the Director of National Intelligence (ODNI) that his predecessors at USAGM and VOA did not carry out proper security screenings for about 40 percent of agency's employees. "Mr. Pack has made a thin excuse that his actions are meant to protect national security, but just as was the case with the McCarthy 'Red Scare,' which targeted VOA and other government organizations in the mid-1950's, there has not been a single demonstrable case of any individual working for VOA — as the USAGM CEO puts it — 'posing as a spy'," the 14 VOA newsroom reporters wrote in their letter.
Their claim was historically inaccurate. In its early years, VOA employed at least one communist spy and many Soviet agents of influence, including some who later worked for communist regimes and spread Soviet propaganda lies against the United States.
More recently, VOA hired a Russian TV reporter who had produced earlier anti-U.S. propaganda videos with anti-semitic conspiracy theories. The reporter's contract was not renewed but he continued hosting VOA television programs for many months even after independent foreign journalists complained about his previous anti-U.S. Russian propaganda work and for several months after then-VOA Director Amanda Bennett and then-USAGM CEO John Lansing were informed about these complaints and concerns. Another journalist who had previously worked for Russian state propaganda outlet RT was also employed by VOA until recently. Shortly before his work contract with VOA and his work visa were not renewed, he claimed that VOA censored one of his last interviews, in which he asked questions about issues affecting his own employment.
On questions of U.S. government officials interfering with Voice of America reporting, the 14 VOA central English newsroom journalists did not protest earlier against the agency management's decision in 2014 to allow a VOA Ukrainian Service reporter to accompany Vice President Biden to an official event during his visit to Ukraine, but a former VOA chief White House correspondent Dan Robinson did after he had already retired from his U.S. government job.
OPINION – DAN ROBINSON – Mixing Advocacy with News Reporting at Voice of America
BBG Watch Commentary All views expressed are those of the author. One Year Later — Dysfunction, News Failures,…
"VOA Newsroom 14" also did not protest against the firing of some of the "VOA Mandarin Five" journalists who questioned former VOA Director Amanda Bennett's decision to cut short an interview with an anti-communist Chinese whistleblower.
To our knowledge, the signatories of the protest letter have not offered their fired refugee colleagues any support while many journalists from VOA foreign language services did, albeit privately because they were afraid of retaliation from the former VOA and agency management team.
The same group of VOA central English newsroom journalists did not register any opposition to the 2016 Ukrainian Service anti-Trump election campaign video or the 2020 VOA Urdu Service pro-Biden election campaign video as being violations of the VOA Charter.
They did not express any public outrage when some of their VOA central English newsroom colleagues kept posting on their personal but publicly accessible social media pages anti-Trump comments and memes, some of which remained online for several years while Amanda Bennett was the VOA Director and John Lansing was the head of USAGM.
The 14 VOA central English newsroom journalists and few more, both former and current, VOA English-language reporters who subsequently signed the letter, also did not publicly protest earlier against bad management at the agency when Harroon Ullah, top aide and chief strategic advisor to former USAGM CEO John Lansing appointed during the Obama administration, was arrested and pled guilty to federal charges of stealing money from USAGM. With his chief advisor pleading guilty and going to federal prison, Lansing resigned from USAGM in 2019 and moved to lead National Public Radio (NPR).
There were also no protests from the VOA central English newsroom when the Broadcasting Board of Governors Chairman Jeff Shell, who was nominated by President Obama, invited Ben Rhodes, Assistant to President President Obama and his Deputy National Security Advisor for Strategic Communications and Speechwriting, to participate via a video link  in an open meeting of the BBG board in August 2014 and introduced him as "a wonderful civil servant who is serving as you can see in a very glamorous location north of here [Martha's Vineyard] with the President whom I consider my boss in this job."
An ironic commentary on the VOA being late in reporting on Twitter's and Facebook's attempts to block the New York Post report may be that in 2017 one of the 14 original signatories of the VOA central English newsroom protest letter himself blocked American journalists from following his VOA work-related Twitter page after they criticized him for tweeting unconfirmed news claims, some of which turned out to be false.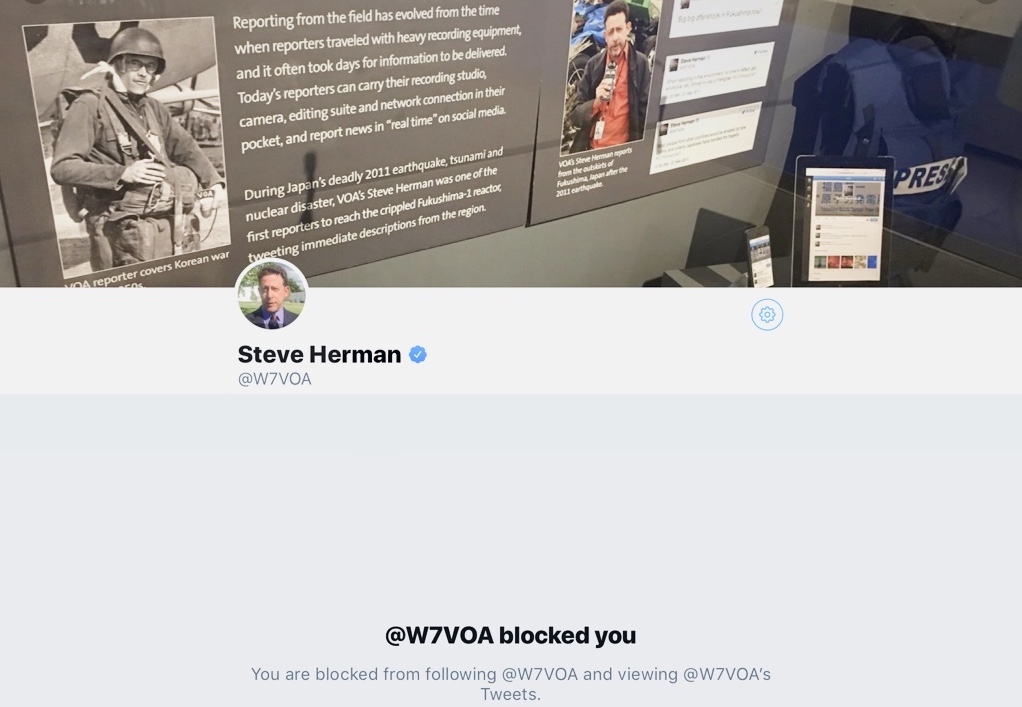 VOA senior White House correspondent Steve Herman was, however, mentioned by Senator Chris Murphy (D-CT), a member of the U.S. Senate Foreign Relations Committee, who on Friday announced legislation to protect journalists from political targeting. A press release on his website said that "This legislation comes after reports that President Trump's political appointees at the United States Global Agency for Media (USAGM) launched a politically-motivated investigation into Voice of America's White House Reporter Steve Herman."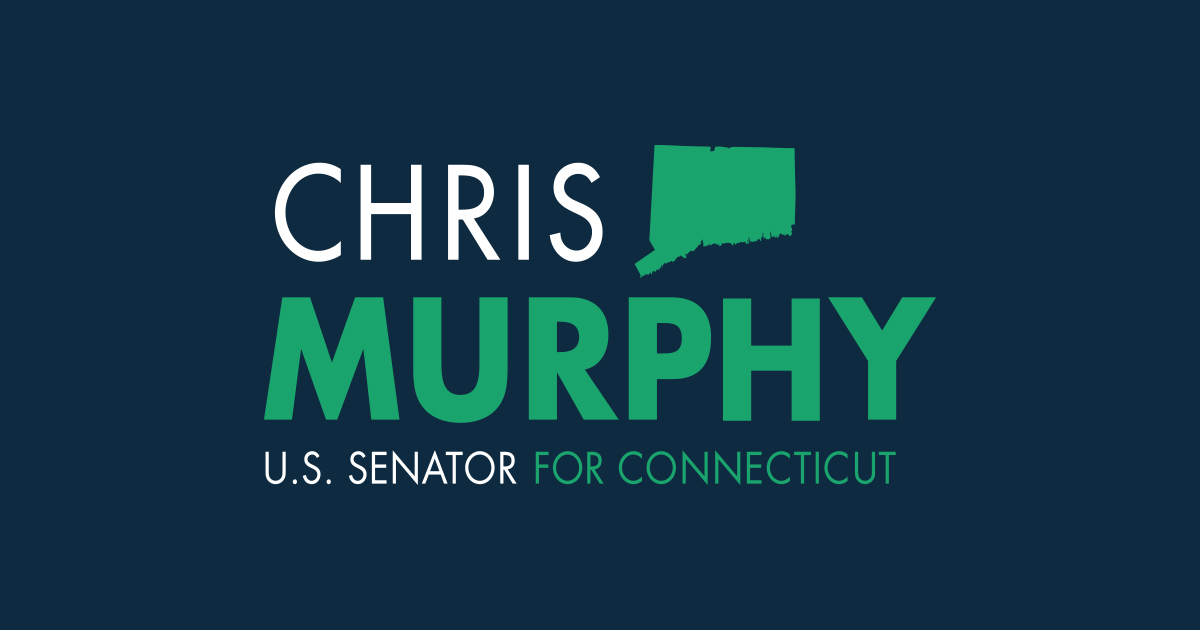 MURPHY ANNOUNCES LEGISLATION TO PROTECT JOURNALISTS FROM POLITICAL TARGETING | U.S. Senator Chris Murphy of Connecticut
WASHINGTON—U.S.
Senator Chris Murphy (D-Conn.), a member of the U.S. Senate Foreign
Relations…
E-mail from Bridget Ann Serchak, Director of Public Relations, Voice of America, U.S. Agency for Global Media (formerly Broadcasting Board of Governors), December 27, 2017:
Thank you for your email regarding the VOA White House bureau chief's Twitter account. We have determined that Twitter account is a personal account rather than an official VOA account. VOA journalists are currently permitted to use personal social media accounts to share their official work and content from other accounts when doing so benefits the agency's mission. Such personal accounts, and the content they contain, are not directly subject to agency oversight or control since they are not government property. Nevertheless, employees are expected to manage any personal account associated with official agency business in a professional manner consistent with general standards and practices applicable to journalists and federal employees, including VOA's best practices guide.
VOA was not aware that anyone had been blocked from any personal social media accounts. After you brought the issue to VOA management's attention, it was discussed with the reporter who has since lifted the blocks from his account. We hope this resolves your concerns on this matter.
Regards,
The Voice of America White House correspondent mentioned in Sen. Chris Murphy's press release was forced to remove his block on American journalists following his VOA work-related Twitter account by the former VOA management team appointed during the Obama Administration. One has to wonder who could force him or other journalists to observe U.S. government regulations and VOA administrative guidelines and journalistic rules if Senator Murphy's legislation should become law.
Partisan bias, failures of journalism and mismanagement are not and should not be a partisan issue. They can hurt Democrats just as easily as they can hurt Republicans. VOA's Albanian Service failed to report recently that the Albanian Ambassador to the United States, Floreta Farber, tweeted support for Representative Eliot Engel, chairman of the House Foreign Affairs Committee, in his recent Democratic Party primary election race. 
Voice of America journalists engaged in censorship and could not be prodded to report on this case of foreign interference in U.S. elections. VOA's central English newsroom also failed to report on this incident.